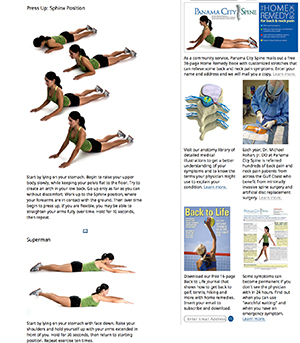 Prizm's exercise library informs and educates
Prizm links physician groups to consumers with a home remedy book that enables a person to prevent injury. Prizm has taken painstaking effort to photograph an attractive exercise model demonstrating a variety of exercises that:
This home remedy book helps consumers prevent strain, increase flexibility and strength as well as relieve pain symptoms at home. Instead of recreating all the effort to secure the right model, photographer and to organize the exercises with instructional exercise descriptions, a healthcare organization can simply license the use of Prizm's exercise and home remedy library. This often includes educational medical illustrations that would be difficult and expensive to replicate. The licensing agreement would ensure that your organization has exclusive use of these materials for ads and brochures for your service area.
Below are some spine exercises that relieve simple cases of back and neck pain, as well as make the back stronger, more flexible and resistant to future strain.
Disclaimer:
The pictures displayed in this website are images of physicians, patients and employees who have consented to have their pictures in this website. If you are viewing in Internet Explorer 8 or older you may need to update your browser.
HAVE A QUESTION?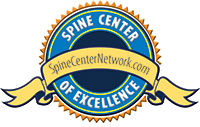 Wouldn't it be convenient if someone created a listing of spine centers of excellence across the United States that all emphasize non-surgical treatment options before surgery?

Finally, there is a place.
SpineCenterNetwork.com