Prizm uses content-rich Internet sites, and educational capabilities journals to convince the consumer and referral source that the spine center is the Expert Source for Information on the Subject of Back and Neck Pain. By sharing this knowledge, competing centers are repositioned LOWER in the mind of the prospective patient and referral source.
Prizm designed websites include detailed educational medical illustrations to help explain spine anatomy and common back and neck conditions. This includes a Back to Life Journal, capabilities brochures and a 36-page Home Remedy Book.
Disclaimer:
The pictures displayed in this website are images of physicians, patients and employees who have consented to have their pictures in this website. If you are viewing in Internet Explorer 8 or older you may need to update your browser.
HAVE A QUESTION?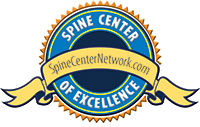 Wouldn't it be convenient if someone created a listing of spine centers of excellence across the United States that all emphasize non-surgical treatment options before surgery?

Finally, there is a place.
SpineCenterNetwork.com